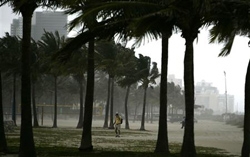 MIAMI (Reuters) - Southeast Florida came under a storm warning on Thursday as Tropical Storm Noel edged northward off the peninsula's Atlantic coast after dumping days of torrential rain in the Caribbean and killing at least 91 people.
The storm had grown in size and some of its outer winds could reach coastal areas of Miami and Fort Lauderdale, U.S. forecasters said, but the worst of its fury was expected to rumble over the northwestern Bahamas as strong westerly winds carried Noel eventually to the northeast.
The storm's winds were "close enough to the Florida coast that any deviation to the left of the forecast track would bring them on to the Florida coast," hurricane expert Jack Beven at the U.S. National Hurricane Center wrote in a report.
"Thus a tropical storm warning is being issued at this time for the immediate coastal area of Miami-Dade and Broward counties."
A tropical storm warning means tropical storm conditions with top sustained winds of at least 39 miles per hour can be expected within 24 hours.
Noel's top winds were holding steady at 60 mph by 8 a.m. EDT, and it was projected to reach a peak intensity over the Bahamas just short of the 74 mph wind speed level at which tropical storms become hurricanes.
TRAIL OF DESTRUCTION
The storm left a trail of waterlogged destruction and death in the Caribbean after slamming the Dominican Republic, Haiti and Cuba with unrelenting downpours.
At least 56 people died in the Dominican Republic, many of them swept away in muddy floodwaters after two rivers burst their banks and tore through the village of Villa Altagracia outside Santo Domingo.
At least 27 more were listed as missing and more than 50,000 people had been driven from their homes by chest-high floods, emergency operations officials said.
Dozens of communities were cut off by mudslides and downed bridges and the Dominican government appealed to other countries to send helicopters so that people could be rescued in isolated communities. President Leonel Fernandez declared a state of emergency.
Haiti, which shares the island of Hispaniola with the Dominican Republic and is even more vulnerable to flash floods and mudslides because most of its trees have been cut down to make charcoal, reported at least 24 deaths. In Jamaica, one person died when a house collapsed because of heavy rain.
In Cuba, thousands were evacuated from vulnerable areas and reservoirs overflowed, but no deaths were reported.
U.S. forecasters projected the 14th named storm of the 2007 Atlantic storm season would veer northeast over the Bahamas on Thursday, well clear of U.S. oil and gas installations in the Gulf of Mexico.
A hurricane watch was issued for the northwestern Bahamas in case Noel strengthened into a minimal Category 1 hurricane on the five-step Saffir-Simpson scale of hurricane intensity.
The storm was located about 110 miles southwest of Nassau in the Bahamas, and 175 miles southeast of Miami at 8 a.m., the hurricane center said, and it was drifting slowly northward.