From:
Reuters
From ENN.com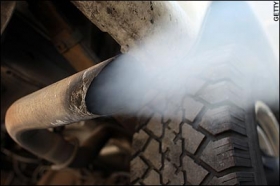 /pollution/article/30356
By Gerard Wynn
LONDON (Reuters) - Britain reversed previous estimates to say its emissions of climate-warming greenhouse gases fell in 2006, showing on Thursday that it was already nearing a self-imposed goal for 2025.
Britain says it is a world leader in the fight against global warming and is introducing legally binding targets to cut carbon emissions by 26-32 percent by 2025 and 60 percent by 2050 below 1990 levels.
Environmental groups have demanded that Britain toughen those 2025 and 2050 goals.
U.K. greenhouse gas emissions were more than 16 percent below 1990 levels in 2006, or 21 per cent below when calculated net of carbon trading whereby governments and companies count as their own cuts that they funded overseas.
But international aviation emissions rose while the commonest greenhouse gas carbon dioxide (CO2) was barely changed, down 0.1 percent.
"As a country we must do much more across the board," said Environment Secretary Hilary Benn, adding that the U.K. was on track to meet and go "well beyond" its Kyoto commitments.
Under the international Kyoto Protocol, Britain has to cut by 2012 its greenhouse gases to 12.5 percent below 1990 levels. Benn said Britain was taking steps to cut emissions further.
"That's why we're reforming the planning system to remove barriers to renewable energy and backing new nuclear power generation," said Benn.
Earlier this month, the government gave the green light to a new generation of low carbon-emitting nuclear power plants. The first new plants could come on line from 2017 at the earliest.
AVIATION EXCLUDED
Emissions in 2006 of all six major greenhouse gases were equivalent to 652.3 million tonnes of carbon dioxide (CO2), of which CO2 accounted for 554.5 million tonnes.
But those numbers excluded international aviation and shipping. Countries do not report these under Kyoto.
Environment ministry data showed that in 2006 international flights in and out of Britain produced 35.6 million tonnes of CO2 emissions, based on UK fuel consumption, or 6.4 percent of total CO2, while international shipping produced 1.2 percent.
British international aviation emissions rose 1.5 percent in 2006 while domestic aviation fell 2.8 percent, the environment ministry said in a statement.
Total national greenhouse gas emissions estimates fall if calculated net of emissions permits that companies buy from overseas to help them meet limits imposed by the European Union's Emissions Trading Scheme.
But in 2006 European industry overall got more emissions permits than they needed meaning that those permits were not necessarily linked to any emissions cut.
(Reporting by Gerard Wynn, Editing by Peter Blackburn)