From:
Julia Tier, Worldwatch Institute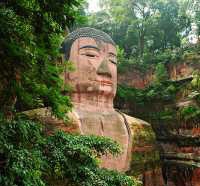 /pollution/article/25126
Acid rain and air pollution, mainly from the burning of coal, have contributed to the degradation of more than 80 percent of China's 33 designated World Heritage sites, according to the Associated Press. Across the nation, particulates from smokestacks have stained historic structures and statues black, including the 17-meter Leshan Giant Buddha, a sandstone landmark that has stood in Sichuan Province since the 7th century.
But China's rising energy demand isn't just leaving its mark on the country's heritage. Every 30 seconds, an infant with birth defects is born in China, according to Jiang Fan, deputy head of the country's National Population and Family Planning Commission. The rate of birth defects nationwide has soared 40 percent in the past five years, from 105 defects per 10,000 births in 2001 to nearly 146 in 2006. The problem now affects nearly 1 in 10 Chinese families, the Commission stated in a recent report.
Birth defect rates are highest in the northern province of Shanxi, an area that is also home to some of China's richest coal resources. "The incidence of birth defects is related to environmental pollution," An Huanxiao, director of Shanxi's provincial family planning agency, told Xinhua News. "The survey's statistics show that birth defects in Shanxi's eight large coal-mining regions are far above the national average."
Currently, as much as 70 percent of China's primary energy comes from coal, compared with less than 25 percent in the United States and Japan, according to the Worldwatch Institute, which just released a new report, Powering China's Development: The Role of Renewable Energy. Coal is used to satisfy a wide range of domestic energy needs, including electric power and heating, and is the source of 80 percent of China's electricity, the report notes. Coal also provides energy security to the nation, which has many decades of reserves, and is less expensive than other energy sources, write authors Eric Martinot and Li Junfeng.
At the same time, China is pursuing a wide range of new energy options, including energy efficiency measures and the use of renewable resources like wind and solar power. China is likely to meet and even exceed targets to obtain 15 percent of its energy and 20 percent of its electricity from renewables by 2020, Worldwatch reports.