From:
Chris Baltimore -Reuters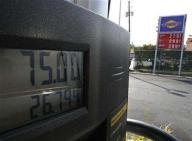 /energy/article/25122
WASHINGTON (Reuters) - Pressure for the U.S. Congress to pass new legislation to increase vehicle fuel efficiency and hike renewable fuel use is mounting as a surge in oil prices sends consumer fuel costs toward fresh records.
Democrats have been pushing for an energy policy rewrite since they took majority control of Congress this year.
But progress has been stymied by auto industry states on fuel efficiency standards and by oil producing states on energy industry taxes.
Experts say members of Congress may now get an earful as they return home for the Thanksgiving holiday next week to voters facing forecasts that average U.S. gasoline prices will hit new records above $3.20 a gallon.
"The pressure that is mounting on Congress is tremendous," said Tim Greeff, deputy legislative director for the League of Conservation Voters. "With oil prices where they are, they are going to hear about it from constituents."
Concerns about supplies ahead of the Northern Hemisphere winter helped push oil prices up more than 40 percent since mid-August to near $100 a barrel.
The run-up means consumers in the world's biggest economy -- already on shaky footing from the growing subprime credit crisis -- will likely face another rise in fuel costs, with home heating oil prices hitting a record $3.21 a gallon on Thursday.
Democratic congressional leaders, who want to pass the legislation by the end of the year, say the issue is taking on greater urgency as the economic impact of U.S. oil dependence adds to environmental concerns.
"For all the reasons that relate to our environment and global warming, well that's one thing," House Speaker Nancy Pelosi told reporters. "Now this is a pocketbook issue as well."
ECONOMIC WORRIES
Though plans were fluid, Democratic leaders were likely to try to pass identical energy bills in the House of Representatives and Senate to avoid the bruising House-Senate bargaining process that has kept talks frozen so far.
The bill was likely to include a tax package that could divert billions of dollars of incentives away from major oil and gas companies toward renewable energy sources, said Sen. Max Baucus, chairman of the Senate Finance Committee.
The shape and size of the tax package was still fluid. Analysts said it was closer in size to a $16 billion package passed by the House in August than a $32 billion tax bill Senate Democrats dropped from their bill in June.
The Senate energy bill is also seeking to increase the fuel efficiency of cars and light trucks by 10 miles per gallon to 35 mpg by 2020, in what would be the first substantive increase in 30 years.
Critics charge the bill could prove a drag on the U.S. economy. According to a study commissioned by the American Petroleum Institute from CRA International, the plans could cause a net loss of $1 trillion to U.S. economic output and reduce U.S. crude oil production by more than 6 percent by 2015.
"With $100 a barrel oil and gasoline prices going through the roof, you would expect that the leadership of Congress would be trying to do something to help bring down those prices at the pump," said Sen. Jon Kyl, an Arizona Republican.