Matthew Weaver and agencies
Monday November 12 2007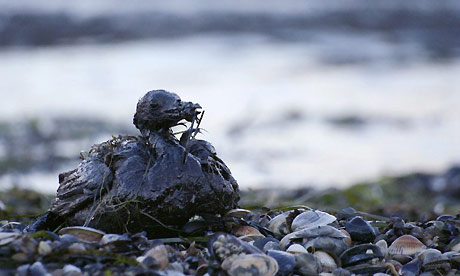 The Black Sea region suffered its worst environmental disaster in years after an oil tanker sank in stormy weather last night.
The bodies of five seamen have been recovered and up to 18 are still missing after the storm struck 10 ships in the Strait of Kerch, which links the Black Sea and the Sea of Azov.
Crewmen aboard the Russian oil tanker, the Volganeft-139, were rescued. It split in two and spilled at least 1,300 tonnes of oil. The severe weather prevented emergency workers from collecting the oil, which authorities said was sinking to the seabed.
Another storm in the area is forecast, prompting a ban on tankers docking at the Black Sea port of Novorossiisk.
Birds covered in thick oil are being recovered on the shore.
The Ukrainian prime minister, Viktor Yanukovich, said the spill raised questions about maritime safety in the Kerch Strait.
"In the Bosphorus straits, it's not possible to use tankers without double hulls. How is the Kerch Strait different? It isn't," Reuters quoted him saying at a news conference.
Vladimir Chuprov, head of the energy department at Greenpeace, told the RIA Novosti news agency: "As a result of the oil spill into the sea, heavy elements of fuel oil will settle on the seabed and cause hydrocarbons to permeate the Sea of Azov. This will lead to a shortage of oxygen in the water, and the unique fauna will suffer greatly."
In total, 10 ships sank or ran aground in the storms, including a Russian freighter carrying metal near the port of Sevastopol. Two members of its 16-man crew drowned, and one was still missing.
Two barges loaded with fuel oil also ran aground in the area but did not leak.
Two of the freighters that sank were carrying around 6,500 tonnes of sulphur, the Russian emergency situations ministry said.
Oleg Mitvol, the head of Rosprirodnadzor, the state environmental safety watchdog, told the Russian television channel Vesti 24 that, although the sulphur did not present an environmental danger, the two freighters could leak fuel oil from their tanks, adding to the pollution.
However, Sergei Baranovsky, the president of the Green Cross environmental group, said sulphur could potentially be even more hazardous to the environment than the oil, Novosti reported.
Maxim Stepanenko, a regional prosecutor, told Vesti 24 that captains had been warned about the stormy conditions on Saturday.
He said the sunken oil tanker — designed during Soviet times to transport oil on rivers — had not been built to withstand a fierce storm.