From:
German Marte, Reuters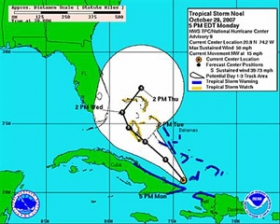 SANTO DOMINGO (Reuters) - More than a dozen people died in the Dominican Republic on Monday after Tropical Storm Noel dumped torrential rain on the Caribbean country, sending thigh-high water surging through streets and cutting power to thousands.
Hundreds of families were left homeless after the 14th named storm of the 2007 Atlantic hurricane season poured 10 to 30 inches of rain on the Dominican Republic and over the treeless hillsides of Haiti, its neighbor on the island of Hispaniola.
The head of the Dominican National Emergency Committee, retired Gen. Luis Luna Paulino, said 13 deaths had been confirmed.
He said there was a report of a family buried when their house collapsed on them and another of a family in a car killed by a falling wall. "If those two accidents are confirmed then the deaths climb to 18," he said.
Juliana Pierossi of international humanitarian agency World Vision said roads were flooded and impassable throughout the Dominican Republic and power cuts were widespread.
"We're getting a lot more action with Tropical Storm Noel than we did with Hurricane Dean," said Pierossi, who was also in the Dominican Republican when Hurricane Dean passed to the south of the country in August.
Flights to and from the International Airport of the Americas near Santo Domingo were suspended.
By 5 p.m. (2100 GMT), the storm was about 50 miles north of the eastern tip of Cuba and moving northwest at 15 miles per hour (85 km per hour), the U.S. National Hurricane Center said. Its top sustained winds had increased to 50 mph (85 kph) but it was not projected to grow into a hurricane.
Noel's track was expected to spare U.S. oil and gas facilities in the Gulf of Mexico but Florida could be affected if the system failed to turn as sharply to the northeast and head out over the Bahamas as computer models predict.
HAITIAN CAPITAL OVERCAST
The storm swept past the Haitian capital Port-au-Prince, but the heaviest rains appeared to have fallen over the Dominican Republic to the east.
Haitian Civil Protection Director Alta Jean-Baptiste said a few houses were destroyed in northeast Haiti but there had been no reports of deaths or injuries.
David Wimhurst, a spokesman for a United Nations peacekeeping mission in Haiti, said U.N. forces in the provinces had received no reports of emergencies.
"It looks like we're OK," he said.
The poorest country in the Americas, Haiti is particularly vulnerable to deadly floods because 90 percent of its forests have been chopped down, mainly to make charcoal. The Dominican Republic has far more tree cover.
In 2004, Tropical Storm Jeanne passed north of Haiti and buried the port city of Gonaives in mud, killing 3,000. In spring that same year, flooding in the south killed 2,000 more.
In the first two weeks of October this year torrential rains killed 45 people, and made 1,000 people homeless.
In addition to Haiti, storm alerts were posted for the central Bahamas, the Turks and Caicos islands and Cuba.
The six-month hurricane season runs until the end of November. While the 14 storms so far this year are more than normal, it has been a far cry from the record-busting 2005 season, when 28 storms formed and several fierce hurricanes, including Katrina, slammed into the United States.
© Reuters2007All rights reserved