From:
Anthony Boadle, Preview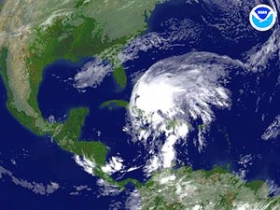 HAVANA (Reuters) - Tropical Storm Noel strengthened as it began to head toward Florida and the Bahamas on Wednesday after drenching Cuba and killing at least 61 people with surging floodwaters and mudslides in the Dominican Republic and Haiti.
The death toll from days of downpours in the Dominican Republic, in particular, begun to climb as emergency workers fanned out to bring aid to towns and villages cut off by raging rivers and inundated by chest-high floods.
Forty-one people were confirmed dead and another 33 were missing while at least 25,540 people were homeless and 6,300 homes had been destroyed, said Luis Luna Paulino, head of the Dominican Republic's emergency operations center.
Luna Paulino appealed to boat owners to offer their services and their vessels to rescue teams so they could reach people trapped in cut-off villages.
Thousands of people were evacuated from vulnerable areas but no casualties were reported in Cuba, which boasts one of the most effective civil protection operations in the region.
The storm dumped six inches (150 mm) of rain in just six hours over Baracoa in Cuba, causing floods and cutting off roads at the already water-logged eastern tip of the island.
"We are getting a constant downpour and strong gusts of wind. The sea is very rough," said Hector Rodriguez, a hotel worker in Cayo Coco, an island resort on the north coast of central Cuba.
The 14th named storm of the 2007 Atlantic storm season was not expected to strengthen into a hurricane over water, the U.S. National Hurricane Center said.
Forecasters projected the storm would veer northeast over the Bahamas on Thursday, away from Florida and well clear of U.S. oil and gas installations in the Gulf of Mexico.
DOMINICAN DEATH TOLL SEEN CLIMBING
But the death toll in the Dominican Republic was expected to climb further, officials said. Several bridges had collapsed and mudslides blocked roads and at least 39 communities were cut off by floods, Luna Paulino said.
Emigdio Sosa, director of the presidential office's social assistance plan, said that so far 145,000 families had been given emergency aid in the form of food, blankets, mattresses and mosquito nets. The government expected to also distribute construction materials such as zinc and wood.
"We project that we will be helping more than 300,000 families," Sosa said in a statement.
In Haiti, the most vulnerable of Caribbean countries to flashfloods and mudslides because most of its trees have been chopped down to make charcoal, at least 20 people died.
Eighteen bodies were counted by the national Civil Protection Office, said its director Alta Jean-Baptiste.
Another two people died in the small town of Terre Neuve. One was a 10-year-old boy swept away by floods and the other a 36-year-old woman crushed by a tree, according to regional civil protection official Faustin Joseph.
About 3,400 people were staying in emergency shelters and around 400 houses had been destroyed.
In Jamaica, one person died when a house collapsed in the heavy rain, the disaster preparedness agency said.
The storms' center was located just off the north coast of Cuba around 190 miles south-southwest of Nassau in the Bahamas by 2 p.m. EDT (1800 GMT), the hurricane center said.
Noel had been drifting to the west before coming to an apparent stop. "A turn to the north is expected later today," the hurricane center said.
Its top sustained winds reached 50 miles per hour (85 km per hour), some way short of the 74 mph (119 kph) at which tropical storms become hurricanes.
The storm began drenching the island of Hispaniola, shared by the Dominican Republic and Haiti, over the weekend. Swathes of the two countries were awash after days of rain.
Torrential rain was also falling over parts of the Bahamas.
Strong winds sent waves crashing onto southeast Florida's Atlantic beaches and rain whipping down the streets of Miami.
(Additional reporting by Joseph Guyler Delva in Port-au-Prince and German Marte in Santo Domingo)