From:
Reuters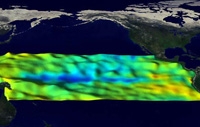 GENEVA (Reuters) - A "La Nina" cooling of sea temperatures is under way in the Pacific Ocean and the phenomenon is likely to persist into next year, the United Nations weather agency said on Wednesday.
La Nina, or 'Little Girl' in Spanish, is an unusual cooling pattern that usually brings rain to eastern and northern Australia and to Southeast Asia, a major producing region of coffee, cocoa, rubber, sugar, palm oil and rice.
In its latest update, the World Meteorological Organization (WMO) said the sea surface was about 1.5 degrees Celsius colder than normal across the central and eastern equatorial Pacific.
"We expect that these conditions will continue until the first quarter of 2008," WMO scientific officer Leslie Malone told a news conference in Geneva.
The current event has strayed from normal trends, and has not brought rainfall to the region, Malone said, attributing this to cool sea temperatures across the north of Australia to the Indian Ocean, which had altered expected weather patterns.
"As long as this situation continues, it is expected to lead to unusual climate patterns in surrounding continental regions, ones that are atypical of La Nina," WMO said in its update.
"Rains have been unusually heavy in parts of eastern Africa, while dry conditions have persisted in many parts of Australia."
Australia is gripped by its worst drought in 100 years, resulting in crop failures that have propelled wheat prices to record highs. The country last experienced wetter-than-usual weather in 1999 through 2000 as a result of La Nina, which is normally characterized by incessant rainfall, storms and floods.
The La Nina weather pattern occurs about every three to five years and often follows El Nino, a warming of Pacific waters, which can also wreak havoc on weather around the world.