From:
Reuters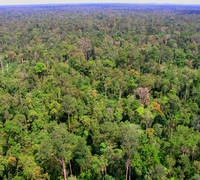 UNITED NATIONS (Reuters) - Indonesia, host of a major climate change conference in December, called on rich countries on Tuesday to compensate poor states which preserve their rainforests to soak up greenhouse gases.
"Countries that seek to enhance their carbon sinks -- through forestation, afforestation, avoided deforestation -- should be given incentive and rewarded fairly for doing so," President Susilo Bambang Yudhoyono told the U.N. General Assembly.
Speaking a day after a one-day high-level U.N. meeting on climate change, Yudhoyono said he was optimistic about a meeting scheduled in Bali, Indonesia, for December aimed at jump-starting talks to find a successor to the Kyoto Protocol, which seeks to curb climate-warming emissions.
But he said the 189 countries that are expected to gather in Bali for the U.N.-led conference must "think outside the box" to forge a consensus on tackling global warming.
"While the developing countries strive to protect and enhance their environment and its biodiversity, the developed countries must extend support," Yudhoyono said.
"They must lighten the burden of developing countries in carrying out that immense task -- through incentives and the transfer of environmentally sound technology," he added.
Indonesia has mobilized nations with most of the world's tropical rainforests -- Brazil, Cameroon, Congo, Costa Rica, Gabon, Malaysia and Papua New Guinea -- ahead of the Bali talks to get rich countries to pay the world's tropical nations not to chop down rainforests.