From:
Jeremy Lovell, Reuters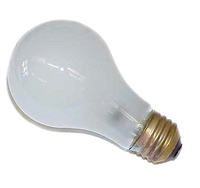 LONDON (Reuters) - Britain will begin phasing out energy-guzzling incandescent lightbulbs early next year in favor of low energy varieties as part of its battle against climate change, the environment ministry said on Thursday.
The aim of the as yet voluntary deal with the major makers, retailers and energy utilities is to cut up to five million tonnes of climate warming carbon dioxide emissions a year by 2012 by cutting electricity demand.
"I am delighted that major companies have said they are prepared to help deliver this ambitious timetable and offer products which will help their own customers play their part in combating climate change," Environment Secretary Hilary Benn said.
"But there are many more energy hungry gadgets on sale in shops that waste too much energy. That's why I want to see today's initiative widened," he added, urging retailers to stop stocking low energy efficiency products.
Low energy florescent lightbulbs use about 20 percent of the electricity needed by incandescent ones and are seen as part of the solution to global warming.
The Energy Saving Trust, a quasi-governmental advisory group on energy efficiency, said lighting accounted for 10-15 percent of household electricity and that low energy lightbulbs were the second most popular energy saving activity after recycling.

Prime Minister Gordon Brown announced the plan earlier this year while he was finance minister.
At this stage it has to remain a voluntary agreement to prevent it contravening European Union competition laws.
Environment groups welcomed the plan as a step in the right direction but called on the government to be more ambitious.
"We think the government needs to go further and introduce tough mandatory efficiency standards rather than relying on weak voluntary initiatives," said Greenpeace director John Sauven.
"For every year of delay in getting rid of these bulbs, five million tonnes of C02 are emitted into the atmosphere, unnecessarily," he added.
The government is in the final stages of putting together a Climate Change Bill that, in its initial draft, had a target of cutting national CO2 emissions by 60 percent by 2050.
Green groups and many parliamentarians have urged that the final bill, expected by November, have an 80 percent cut as its target, with annual reduction targets on the way there.
Earlier this week Brown told his ruling Labour Party's annual conference that he would ask a committee of climate experts to be created by the bill to examine whether a tougher target was necessary.