Terry Macalister
guardian.co.uk
,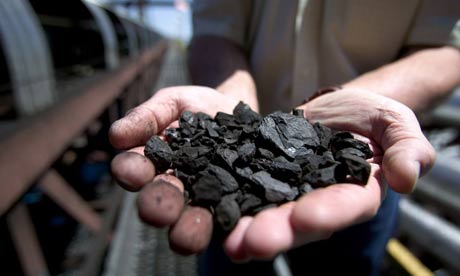 The protest at Kingsnorth may appear to be a battle over a coal-fired power station in an obscure corner of Kent, but it represents part of the frontline in a global rush for coal.
There are now over 100 similar schemes in various stages of design, planning or construction around the world and foreign governments are watching closely to see what decision is taken in the UK.
In particular, they want to know whether a government that has talked tough at climate summit debates will allow power generator E.ON to build the Kingsnorth station with or without carbon capture and storage (CCS) technology that could hold a key to "clean coal" and the fight against global warming.
Coal already makes up a quarter of total energy consumption and generates 40% of the world's electricity. The last couple of years has seen a massive swing towards king coal after decades when it looked doomed to be phased out, because of acid rain and then greenhouse gases, of which it is a huge emitter. Its use in US power stations alone is responsible for 1.5bn tonnes of CO2 emissions a year.
Despite mounting fears about carbon pollution, coal has returned to fashion because rival energy sources such as gas are soaring in price and being depleted faster than expected. Coal reserves are also often located in politically stable countries such as the US, South Africa and Australia.
Coal, which has traditionally been a cheap power source, is also prized as a fuel for electricity generation because it does not have the problem of intermittency of supply associated with solar or wind, and plants do not have to be kept running all the time as they do with nuclear power.
A major study published recently by the Massachusetts Institute of Technology, called The Future of Coal concluded: "We believe that coal use will increase under any foreseeable scenario because it is cheap and abundant. Coal can provide usable energy at a cost of between $1 and $2 [£0.52 to 1.04] per million British thermal units (MMBTU) compared to $6 to $12 per MMBTU for oil and natural gas."
Coal reserves worldwide are as high as 909bn tonnes, according the BP Statistical Review of World Energy 2007, which at the current rate of production of less than 6bn tonnes per year, would last for over 150 years.
But Energy Watch Group, a German association of independent researchers has questioned the reliability of coal statistics and suggested they are often too high because they are out of date. " Peak production could be reached as soon as 2025," the group argues.
Fast-developing nations such as China have long been dependent on large domestic coal reserves, but China has increasingly looked to foreign suppliers as demand grows. China is traditionally an exporter of coal, but imported 50m tonnes in 2007, 34% up on the previous year, and is now opening the equivalent of two new coal-fired power stations every week.
At least half of the 100 coal-fired power stations being prepared worldwide are in China with at least 10 more in Germany, another 10 in the US, and 12 in South Africa.
In Britain, a host of other power companies have outlined plans for coal-fired stations and are waiting to see what happens to E.ON at Kingsnorth. This list includes RWE which is talking about plants at Tilbury, Essex, and Blyth, Northumberland, plus Scottish Power at Longannet, Fife, and Scottish and Southern Energy at Ferrybridge, West Yorkshire.
The new interest in coal is also pushing up prices of a commodity that comes in a range of different qualities both in terms of its heat capacity and pollution. Lignite, "brown coal" is the least valuable but still an important part of production in Germany, Russia and Romania.
The rising price of coal has seen a dramatic profits upturn at UK Coal, the country's main mining group and successor of the state-owned National Coal Board. Barely 12 months ago, UK Coal had been trying to drum up City investment by presenting itself as a property developer - keen to boast about the value of a land portfolio based around former pits.
But now the company is focusing on coal as well as land, spending £55m extending the life of the Kellingley mine at Knottingley, West Yorkshire, to 2017 plus a similar amount at Thoresby, Nottinghamshire, and even considering whether to reopen a mothballed mine in the county at Harworth.
Despite the proposed increase in output, Britain currently imports 73% of the coal it burns, almost half of it from Russia. Associated British Ports has been spending millions of pounds developing new dockside facilities to handle new supplies at places such as Immingham, Lincolnshire, just miles from where the huge Selby coalfield in North Yorkshire - once the biggest in Europe - was closed by UK Coal.