From:
United Nations Environment Programme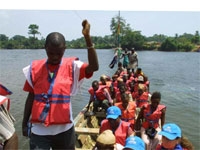 /lifestyle/article/37473
There are now more than 11 million refugees worldwide, the United Nations refugee agency has warned as the world celebrates World Refugee Day.
A new report by the UN High Commissioner for Refugees(UNHCR)says conflicts, climate change and rising food prices are some of the factors leading to the rise in global displacement to 11.4 million refugees worldwide-up from 9.9 million last year.
World Refugee Day will be marked by a whole range of events taking place around the globe today, with a focus on the fundamental need for protection. Meanwhile UN High Commissioner for Refugees António Guterres is on mission in Kenya, where he visited a refugee camp on the Kenyan-Somali border and a camp for internally displaced Kenyans in the town of Naivasha.
The International Federation of Red Cross says climate change disasters are currently a bigger cause of population displacement than war and persecution.
The global impact of the environment on human livelihoods is creating a new kind of casualty-the environmental refugee. Rising sea levels, increasing desertification, weather-induced flooding, and more frequent natural disasters have, and will increasingly become a major cause of population displacement in several parts of the world.
According to a report published by the United Nations University, there are now about 19.2 million people officially recognized as "persons of concern"-that is, people likely to be displaced because of environmental disasters. This figure is predicted to grow to about 50 million by the end of the year 2010.
These forecasts are not inevitable and will hinge on whether the international community can pull together and deliver a decisive and meaningful agreement on climate change at the UN climate convention meeting in Copenhagen in 2009, alongside more intelligent management of the planet's nature-based assets.