(CNN) -- Water spilled over two levees on the Mississippi River on Wednesday, surging into west-central Illinois, covering fertile farmland and pushing residents from their homes, officials said.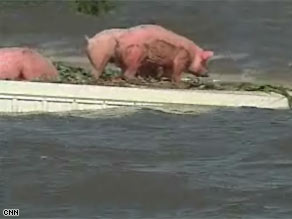 Pigs seek refuge from the floods on top of a farm building near Oakville, Illinois, on Wednesday.
The U.S. Army Corps of Engineers for the Mississippi Valley said water flowed over the top of one levee, but local officials had a different account, reporting that the levee -- near Meyer, Illinois -- breached in two places about 6:20 a.m., pouring water into Hancock and Adams counties.
"It's kind of a sad day," Sheriff John Jefferson of Hancock County said. "People put in a lot of manpower [to build up the levees], and all was lost."
The floodwaters will cover thousands of acres of farmland from Warsaw to Quincy, about a 25-mile stretch of the river.
"There's a lot of wheat fields down here just about ready to be harvested, and they're going to lose all that," Jefferson said. "The corn crop, the bean crop that's up, is all going to be lost. And the real work's going to come after the flood recedes. It'll take years to get this ground back into shape to farm it."
All residents in the area had been evacuated, Jefferson said.

Watch why Illinois breach helps Iowa »
Another levee in Adams County was breached about 1:30 a.m. Wednesday, said David Rudduck, spokesman for Illinois Gov. Rod Blagojevich.
On Wednesday, the White House asked Congress for $1.8 billion in emergency aid for the flooded region, The Associated Press reported.
The levees are about 45 miles south of another levee that was breached Tuesday morning near the small village of Gulfport, Illinois, prompting about 400 people to leave their homes in Henderson County.
The water flooded acres, shut down a train station and ruined crops.
Farmer Jim Olsen said his crop of beans and corn was ruined.
"It is not going to be a farm this year," he said, staring at his damaged land. "It is a total loss."
Near Oakville, Illinois, floodwaters covered about 21 square miles of corn and soybean fields, including Richard Siegle's farm.
All that was visible of the house Siegle built in 1972 was the roof and an American flag on a tall pole waving in the submerged front yard. On a nearby farm building, pigs clustered on the roof, eating whatever they could find that floated down the river.

Watch pigs stranded on roof »
"Who ever thought that we'd see water this deep here?" Siegle asked. "It's unreal.
"You don't know where to start," Siegle said. "It just depends on what Mother Nature does, when the water goes out, whether they get the levee repaired. There's not any assurance that we'll get the levee repaired."
Authorities on Tuesday closed the Great River Bridge connecting Illinois to Iowa, according to the sheriff's office of Henderson County.
Across the Mississippi in Burlington, Iowa, water levels have "dropped a bit," but they may rise again, according to David Miller, administrator for the Iowa Homeland Security and Emergency Management Division.
"The good news is, the floodwater is receding in much of the state," Miller said. "The bad news is, we're still in a flood fight."
He said officials are also monitoring flooding at Keokuk, a riverside town, where water levels are expected to crest by Thursday.
Levees elsewhere along the Mississippi were being topped with sandbags as the river, fed by its flooded tributaries, continued to rise.
In Clarksville, Missouri, five blocks were under water, but National Guard members, inmates and students were sandbagging to save other parts of the historic artists' town, AP reported.
"We fix one thing, and it breaks," Mayor Jo Anne Smiley told AP. "Sewers are plugged up. We have leaks in walls and people who need things. We're boating in food to people."
President Bush plans to visit Cedar Rapids, Iowa, on Thursday to see the flood-damaged regions, according to White House Deputy Press Secretary Tony Fratto