From:
, The World Business Council for Sustainable Development (WBCSD), More from this Affiliate
Published
April 16, 2008 08:23 AM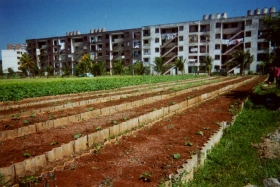 /ecosystems/article/34761
The world will face social upheaval and environmental disasters if agriculture is not radically reformed to better serve the poor and hungry, a landmark UN-sponsored report said Tuesday.
The warning in the report by the International Assessment of Agricultural Science and Technology for Development (IAASTD) comes amid growing discontent among the world's poorest over rising food prices.
"Continuing with current trends in production and distribution would exhaust our resources and put our children's future in jeopardy," said the report, which was compiled by about 400 international experts.
"And the increasingly globalised food market and ever-increasing food imports mean that no country can assume itself to be immune to the implications," it added.
In a statement, the IAASTD called for a "more holistic view of agriculture." The first of the United Nations' 10 Millennium Goals is to reduce by half the number of people suffering from hunger by 2015.
But the new report stressed that agriculture as is practised today was the source of deep inequalities and that the number of malnourished people worldwide was continuing to grow.
"Although considered by many to be a success story, the benefits of productivity increases in world agriculture are unevenly spread," it said.
"Often the poorest of the poor have gained little or nothing, and 850 million people are still hungry or malnourished with an additional four million more joining their ranks annually," the report went on.
The report said the world's agricultural expertise "should be targeted toward strategies that combine productivity with protecting natural resources like soils, water, forests, and biodiversity."
"To argue, as we do, that continuing to focus on production alone will undermine our agricultural capital and leave us with an increasingly degraded and divided planet is to reiterate an old message," the IAASTD said.
"But it is a message that has not always had resonance in some parts of the world. If those with power are now willing to hear it, then we may hope for more equitable policies that do take the interests of the poor into account."
Commissioned by the World Bank and the UN's Food and Agriculture Organisation, the report was considered by 64 governments at an intergovernmental plenary in Johannesburg last week.
Food protests have already been the cause of deadly protests in African countries such as Cameroon, Senegal and Mauritania and riots in Haiti and Indonesia.
The crisis has spurred world leaders into action, with the United States on Tuesday pledging 200 million dollars to help governments address the problems of rising food prices.
Earlier, UN chief Ban Ki-moon warned that the food crisis could trigger political upheavals and security risks.