From:
Reuters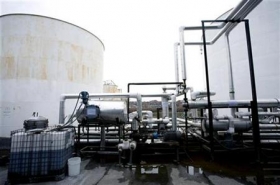 /business/article/34930
By William Schomberg and Missy Ryan
BRUSSELS/WASHINGTON (Reuters) - European biodiesel producers said they were asking Brussels on Friday to impose punitive import duties on U.S. biodiesel but their U.S. rivals said they would hit back with a complaint of their own.
In a move which could trigger a new transatlantic trade row, the European Biodiesel Board (EBB) said it was formally requesting the EU's executive Commission to hit U.S. imports with anti-dumping and anti-subsidy duties due to unfair subsidies.
"Since 2007, as a result of these measures, there has been a dramatic surge in U.S. biodiesel exports to the EU, thus creating a severe injury to the EU biodiesel industry," the EBB said in a statement.
The international trade in biofuels has surged due to growing demand for alternatives to fossil fuels as a way to cut greenhouse gas emissions and slow climate change.
The EU has set itself a target of using biofuel for 10 percent of its transport fuel by 2020, something that will require large amounts of imports, EU officials say.
The European industry has long complained that U.S. subsidies for "B99" biodiesel, which is blended with small amounts of mineral diesel, break World Trade Organization rules.
The U.S. exports are also eligible for EU subsidies.
The EBB has previously said it would seek anti-dumping and anti-subsidy duties for U.S. imports. Friday's joint complaint starts the clock on the EU procedure for handing such cases.
The head of a U.S. biodiesel producers' group slammed the move by the European industry.
HYPOCRITICAL
"It is hypocritical for the European Biodiesel Board to cry foul while they benefit from a blatant trade barrier," said Manning Feraci, vice president of federal affairs at the National Biodiesel Board.
He said EU biodiesel fuel specifications were discriminatory and inconsistent with WTO rules.
"Our industry will be asking the U.S. Trade Representative to take action where appropriate on this and any other EU member state biofuel policy that is meant to confer special protection or treatment to European biodiesel producers," he said.
The European Commission has 45 days from receipt of a complaint to decide whether to launch investigations. It would then have up to nine months to impose duties on a provisional basis if it finds evidence that trade rules were broken. Those duties may eventually be made definitive, usually lasting five years.
"If they submit a complaint, we will look at it very carefully," said Peter Power, a spokesman for EU Trade Commissioner Peter Mandelson, refering to the European industry's plan to file its joint complaint on Friday.
"We will not under any circumstances tolerate unfair trade," Power said.
(Editing by Dale Hudson and Catherine Evans)