From:
Reuters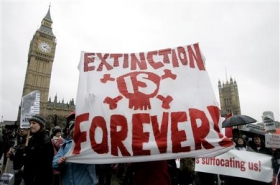 /wildlife/article/26836
By Jeremy Lovell
LONDON (Reuters) - Several thousand climate campaigners marched through London and Stockholm on Saturday calling on governments around the world to take urgent action to tackle global warming.
Carrying banners with slogans like "cut carbon not forests" and "actions speak louder than words" protesters in London marched in torrential rain and biting cold past parliament and through Trafalgar Square to rally in front of the U.S. embassy.
Some posters carried a picture of U.S. President George W. Bush and the words "Wanted for crimes against the planet." The United States is the world's biggest emitter of carbon gases.
British police said 2,000 people took part in the march. Organizers said they estimated the number at 7,000.
In Sweden, police said about 1,000 protesters marched through Stockholm in the rain carrying banners reading "make love, not CO2," "kids for the climate" and "flying kills" in Swedish and English.
"I've never seen so many people come to a demonstration in Stockholm," said Susanna Ahlfors, 34, marching with her two children. "If we don't act now, things will go really bad. I'm worried about their future."
The protesters urged the world to stop driving and start biking and admonished Swedish Prime Minister Fredrik Reinfeldt for "staying quiet while the water is rising."
The marches were among 50 planned around the world and timed to coincide with a meeting of U.N. environment officials and ministers on the Indonesian island of Bali to discuss a successor to the Kyoto Protocol on cutting carbon emissions.
"This march is a direct message for Bali, indeed for all governments around the world, to take action now," said Andy Wimbush, one of the London march Organizers. "We can't wait."
Kyoto, which was rejected by the United States, expires in 2012 and as yet there is nothing on the table to replace it.
The U.N. hopes the meeting in Bali will produce a negotiating mandate that will lead in two years to a new global emissions cutting deal.
A draft proposal on Saturday said all nations must do more to fight climate change and rich countries must make deep cuts in greenhouse gas emissions to avoid the worst impacts.
The four-page draft was written by delegates from Indonesia, Australia and South Africa as an unofficial guide for delegates from 190 nations at the December 3-14 Bali talks.
Britain agrees the developed world as the main source of the high carbon levels in the atmosphere should lead the way.
It is pushing a Climate Change Bill through parliament that will for the first time set a legally binding target on the government to cut national emissions of carbon dioxide -- the main climate culprit -- by 60 percent by 2050.
(Additional reporting by Sarah Edmonds; Editing by Janet Lawrence)