From:
Reuters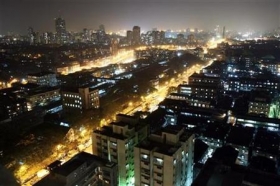 /climate/article/26301
By Jonathan Allen
NEW DELHI (Reuters) - India is likely to stick by its pledge to keep its carbon emissions per person lower than those of the rich world at next week's climate change talks in Indonesia, according to policy advisers.
It might seem like an easy promise to make for now: the average American emits 20 times more carbon than the average Indian, not least because more than 600 million Indians still live in homes without so much as a lightbulb, according to government data.
But the pledge is the closest India has come -- and is likely to come for now -- to agreeing to measurable targets, underlining its emphasis on the idea that polluting, industrialized nations must shoulder the greater burden in reducing emissions.
The absence of such targets for developing nations like India and China has long been a sticking point with the United States, and was one reason it remained outside the Kyoto Protocol, which binds 36 rich nations to cut greenhouse gas emissions.
India is expected to negotiate from this position as it meets with about 190 nations in Bali this month to begin a two year process to find a new agreement to succeed the Kyoto Protocol.
"The prime minister has said that we will make our development path in such a careful way that 20, 30 years down the line we still don't cross the per-capita emissions of the developed world," Jayant Mauskar, a senior environment ministry official, told Reuters.
India's widely awaited climate change strategy is yet to be published, but Mauskar said this idea remained the "bedrock" of India's position.
"It provides a challenge to the developed countries," said Rajendra Pachauri, an Indian scientist and member of the prime minister's climate change council.
"If they want India to reduce or limit its emissions, they need to ensure that they provide the bar that must never be crossed."
CHALLENGE FOR INDIA
Pachuari, who was jointly awarded this year's Nobel Peace Prize as the head of the U.N. climate change panel, said it could prove a meaningful commitment in the long-term.
"If some countries are talking about emission cuts of up to 80 percent by 2050 then it really could become a challenge for India," he said.
Looked at from one angle, India is the world's fourth largest emitter of the greenhouse gases believed to be the cause of climate change. But India prefers to think of itself as representing about a sixth of humanity, yet responsible for only about a twentieth of global emissions.
Most other countries agree with this view, and accept that India must be allowed to burn more energy as it tries to lift hundreds of millions of its citizens out of poverty.
This gives India a strong position in Bali from which it can demand greater action from rich nations, environmentalists say.
India also deserves some praise for leading the developing world in introducing clean-development policies, said Shruti Shukla of environmental group WWF, even if the policies are sometimes slow in becoming ground realities.
Climate change is expected to have an especially disastrous impact on India. Exacerbated droughts and floods would hurt the two-thirds of Indians who depend on farming for a living.
"I don't know why everybody's hung up on mitigation," said the environment ministry's Mauskar. "Adaptation is the first thing we have to tackle."
He repeated India's claim that it is forced to spend around 2 percent of its gross national product -- or 12 percent of its annual budget -- on dealing with the effects of climate change.
But many people see these figures as over-inflated, as they include its spending on things like anti-malaria and anti-poverty programs, which India would have to deal with regardless of climate change.
(Editing by Krittivas Mukherjee and Jerry Norton)