From:
Will Dunham, Reuters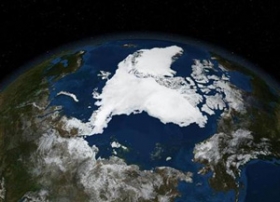 WASHINGTON (Reuters) - Arctic sea ice declined this year to the lowest levels registered since satellite assessments started in the 1970s, extending a trend fueled by human-caused global warming, scientists said on Monday.
Sea ice declined by so much this year that the typically ice-clogged Northwest Passage, allowing vessels to sail from the Atlantic to the Pacific, completely opened for the first time anyone can recall, the researchers said.
Scientists at the U.S. National Snow and Ice Data Center, part of the University of Colorado at Boulder, measure Arctic sea ice during the annual melt season beginning in March and ending in September.
The average sea ice extent for September, when ice is at its lowest quantities, slipped to 1.65 million square miles , breaking by nearly a quarter the previous record low for the month set two years ago, the scientists said.

"Overall there's been a steep and significant downward trend since we've been getting good satellite data starting in 1979," Walt Meier, one of the scientists studying Arctic sea ice for the data center, said in a telephone interview.
"We've got the final numbers now for this September, and it's a really dramatic record low. It didn't just break the record, it shattered the record. This year just obliterated everything else."
Sea ice last month was 39 percent below the long-term average from 1979 to 2000, the scientists said.
Meanwhile, a NASA-led study documented a 23 percent loss during the past two winters in the extent of the Arctic's thick, year-round sea ice cover.
The reduction of perennial winter sea ice is the primary cause of this summer's fastest-ever sea ice retreat on record and subsequent smallest-ever extent of total Arctic coverage, the scientists said. Their findings appeared in the journal Geophysical Research Letters.
Meier said it would not be surprising that in the next 25 years -- far sooner than previously predicted -- that there might be an ice-free Arctic during the summer.
"I don't think you can get this kind of situation if you didn't have warming temperatures," Meier said, pointing to man-made emissions of carbon dioxide and other so-called greenhouse gases.
Mark Serreze, another researcher at the National Snow and Ice Data Center, said in a statement, "Computer projections have consistently shown that as global temperatures rise, the sea ice cover will begin to shrink.
"While a number of natural factors have certainly contributed to the overall decline in sea ice, the effects of greenhouse warming are now coming through loud and clear," Serreze said.
Meier said satellite imagery showed no ice for several weeks in August and September along the Northwest Passage, which would enable vessels other than modern icebreakers to get through.
"The channels there were basically completely open," Meier said.